Newsletter - December 2020
Happy new year from the entire SheeldMarket team!
Welcome to the third edition of our monthly crypto industry newsletter, in which we provide thorough analysis on crypto spot and derivatives markets.
We will cover December's major events, as well as price action and other relevant data.
Each month, you will get a snapshot of the crypto-markets as seen through our lens. Expect new segments, features and research to be added along the way.
---
Company updates
SheeldMarket in top 3 French Fintech startups to follow
Leading European startup media Maddyness recommends us as one of the 15 French startups to follow closely in 2021.
Read more (FR)
---
Industry highlights
US life insurance company purchases $100M in BTC
MassMutual bought $100M of bitcoin, giving them "measured yet meaningful exposure to a growing economic aspect of our increasingly digital world" according to company officials.
Read more
Oliver's take: Even though this allocation represents only 0.04% of its portfolio, the 169-year-old company's purchase could push other similar firms to make a move, driving institutional demand for the asset.
Asset Manager allocates 2.5% of $20B portfolio to BTC
Ruffer Investment allocated what was worth $740M mid-December to Bitcoin. The firm sees this as "a small but potent insurance policy against the continuing devaluation of the world's major currencies".
Read more
FX's take: If we consider an average level of $16,400 in November 2020 for one BTC that would make a total investment of 45,122 BTC.This would represent $1.466 bn as of today as the BTC almost doubled since then.
Standard Chartered to launch crypto trading desk
The international bank will offer institutional customers access to 5 leading over-the-counter (OTC) trading desks and 4 exchanges.
Read more
Jacques' take: This is only the first player to move. Expect many, many more in coming months.
NFL star receives half of $13M salary in BTC
Pro football player Russell Okung is now receiving half of his salary in Bitcoin, through crypto payment company Strike. Okung has been a Bitcoin advocate for years, and has asked for a BTC salary since 2019.
Read more
FX's take: If you didn't believe Bitcoin could be used as a means of payment, think again.
---
SheeldMarket's review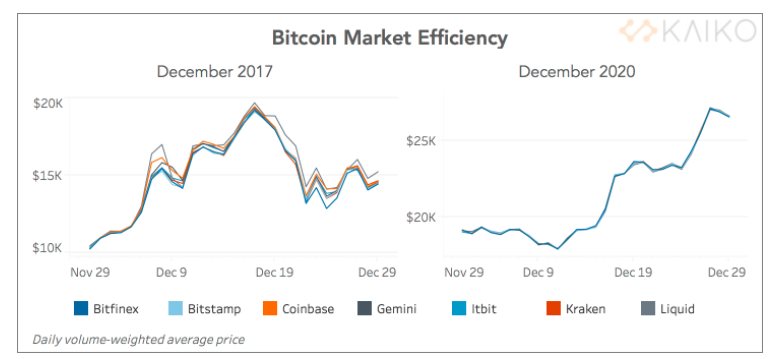 Bitcoin markets have matured since 2017. They are much more efficient than 3 years ago. Nevertheless there are still discrepancies between different market places you can still exploit thanks to SheeldMarket. Bitcoin is the most liquid cryptocurrency which makes it much more efficient than other coins that still experience a lack of efficiency.
If some people around you are into investing but don't like cryptos, you can always share this chart from our friends at Coindesk.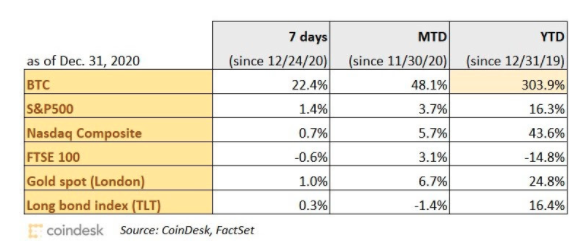 ---
Feel free to share this newsletter with your colleagues.